As the England Squad returns home empty-handed from the 2022 World Cup, the English Premier League is back for its traditional Boxing day fixtures on 26 December.  
With little recovery time before being thrust back into club duties, now is more important than ever to consider the impact of injuries and what can be done to reduce the rising costs facing clubs.  Here we discuss past injury figures compiled from Howden's European Injury index 2022, and what might be in store for players and clubs this season. 
A Year of Absence  
During the 2021/22 season, English Premier League clubs suffered 1,231 injuries – a 30% increase on 20/21. Not a huge surprise when you consider the packed fixture dates, aggressive playing style, as well as Covid-19 plaguing the globe.   
 Indeed, December and January typically see club and individual injury rates at their highest. In January and February 2022, the Premier League saw the most absences from the pitch out of the top five European leagues; Bundesliga, La Liga, Serie A and Ligue 1. 
Winter Woes 
Despite fewer non-Covid injuries, the English Premier League clubs incurred the most injuries in the month of December (219) in the 21/22 season at a cost of £32.82m. However injury absences rose across all the leagues in December '21 and January '22, likely due to the fact that, while clubs have a winter break pause in fixtures, training continues. 
And while Covid-19 certainly impacted injury rates last season, this season's 'zero break' post-World Cup back-to-work means players are more likely to suffer injuries of all kinds. 
Eye Watering  
It's not just the increasing number of injuries that are eye watering, it's the cost. The English Premier League paid out £133m in salaries to injured players (non-Covid-related) during the 2021/22 season.
Manchester United found themselves top of the injury cost tree (£26.72m / €31.79m), with a substantial average cost per injury of £330,000 (€390,000), accounting for 14.5% of the total injury cost for the league.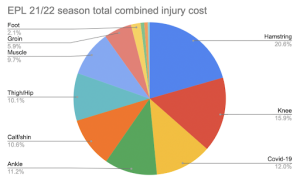 The Answers Lie in Revolutionising Injury Rehab  
The post-World Cup Premier League fixtures will see intense loads being put on players and undoubtedly injuries will occur. The rise in injuries rates is a cause for concern for clubs around Europe and begs the question, what can be done to help curb this increasing problem and minimise the financial burden?
 We believe the answers lie, in part, in innovative tools that provide solutions to ease the burden of rehab. The ProMOTION EV1 device does just that. 
Frequent use of the revolutionary ProMOTION EV1 device can provide the critical accuracy of hot and cold therapy with compression, which helps to reduce recovery time. 
Accuracy Vital to Recovery 
With a temperature range of 6-40° the ProMOTION EV1 has the ability to provide personalised temperature programs throughout treatment. ProMOTION EV1 can be used anywhere at any time. From the side of a pitch, travelling or even at home, EV1 is the most innovative therapy device on the market. The elite package comes with two compression wraps and a compression pump and is fully battery operated. There is no need for ice or water. 
Competitive Edge 
If a club invests in ProMOTION EV1's revolutionary therapy and data capture technology, they jump to prime position to refine their injury protocols and learn how to tackle injuries for savings into the £millions.  
EV1 is a powerful tool to have in any Club's kit – we encourage the use of data capture to give Club's an evidence-driven approach to injury management for a competitive edge. 
Traditional cryotherapy modalities do not offer the ability to automatically capture data showing temperature, compression and dosage used, and clinicians typically have to manually record cryotherapy interventions for player records. Our technology stores information after a program is run, recording the duration, the compression, and the temperature applied.
Detailed records on cryotherapy interventions are essential for building a strong evidence base for best practice and to inform the development of optimal rehabilitation protocols that deliver effective results for your team. 
Find out more about ProMOTION EV1 here

–
References:
All statistics are reported from the Howdens European Injury index 2022