Our guidance for Patients
ProMOTION EV1 for Patients
Whether you are recovering from surgery, suffering from chronic pain or simply have years of wear and tear on your body, the likelihood is that you will have endured inflammation, pain and discomfort.
ProMOTION EV1uses the latest technology to combine a range of different therapies in one small device, that can help to reduce the need for painkillers and help speed up your rehab. 
How can
ProMOTION
EV1 help me?
Cryotherapy (cold) – is proven to relieve pain and inflammation. Cold is typically applied to acute injuries such muscle or tendon strains, and ligament sprains.
Heat therapy – is typically used for chronic pain (e.g. lower back pain), and in the final stage of injury healing (to aid with the alignment, pliability and strengthening of new tissues) or even for relieving pain from delayed onset of muscle soreness (DOMS) that occurs after exercise.
Contrast therapy – combines the use of hot and cold therapy. It is typically used for post-exercise recovery or when the inflammation from an injury begins to stop and new tissues are forming. Contrast therapy is typically done through cold and warm water immersion, but with ProMOTION EV1 there is no need for water. 
Compression – adding compression can help cold or heat therapy reach deeper tissues and speed up recovery.
Portable and Convenient
Due to its highly portable nature, ProMOTION EV1 can be easily used from the comfort of your own home to manage your pain or recovery. 
ProMOTION EV1 is battery powered and has no need for ice or water making it really convenient and easy to use.
Your physiotherapist or doctor can recommend the best course of treatment for your circumstances and can set tailored programs for you to use, which can even be run from our mobile app.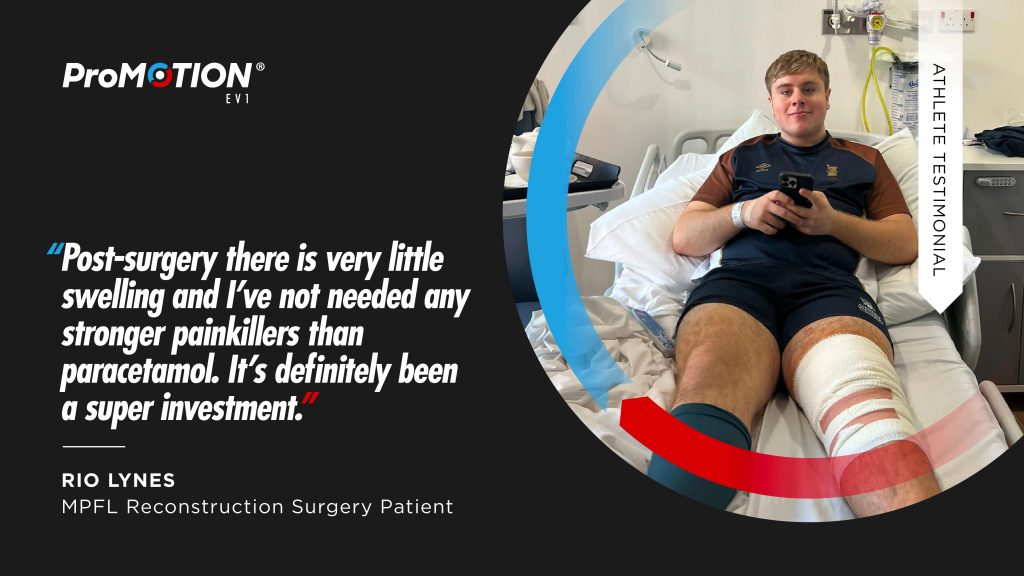 Case Study: Budding Rugby Union player Rio used EV1 in order to speed up his Recovery
Budding Rugby Union player Rio Lynes saw his dreams temporarily put on hold when ongoing trouble with his Medial Patellofemoral Ligament (MPFL) in his knee resulted in him needing full reconstruction surgery.
Desperate to help speed up his post-op recovery and get back on the training pitch as soon as possible, Rio set out on a mission to find ways he could help take control of his own rehab, and came across ProMOTION EV1.
Whilst awaiting surgery Rio used the EV1 regularly to help relieve the pain and reduce swelling.
Read the Case Study